This post originally came from my friend Jeff Clark a Freightliner Team Run Smart Pro.  Over the last several weeks we have had some debates on the advantages and disadvantages of Toll Roads.  As a company driver I am for the route that saves me the most time.  Where Jeff is looking for time, as well as cost savings.  While he has not totally convinced me yet. This post he did on a comparison of one of the non-toll routes verses the toll road in Indiana caused me to take a second look.
Not for the the cost, or time savings, but for the drive. One of the biggest disadvantages of toll roads is not only the costs of tolls.  It is the added cost of food and lack of services that drivers need such as showers and laundry facilities.  (Though the State of Ohio Toll System is a notable exception to this and worth its own blog in the future.)  By taking some of these "off the beaten path" roads.  you are able to find some hidden gems in terms of old fashioned mom and pop truck stops, truck friendly restaurants, and various stores that are more welcoming to the professional driver.  Thank you Jeff for the reminder that sometimes it really is about the journey and not just getting to the destination.
Avoiding the Indiana Tollway
The rate for a class 5 vehicle to cross the Indiana Tollway on I80 is now $32.10. Divided by 133 miles that comes out to about 24 cents per mile. It was $12.80 for years. It has risen since the public/private partnership. To be honest with the electronic tolling it is definitely the easiest way across Indiana. It may not be the most profitable.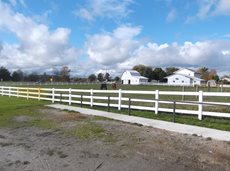 There are basically 3 ways to avoid the toll way. Routes 6, 20, and 30 will get you from Illinois to Ohio. US 20 will dump you out less than a mile from the Ohio Turnpike near the Indiana state line. So I will concentrate on that alternative. Coming from IL stay on I 94 to exit 40. Interstates 80 and 94 split near exit 16 in Lake Station IN. If you stay straight you will be on I94.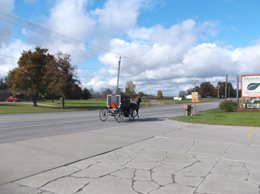 You will be hitting a stop light about every 4-5 miles. About 20 miles on US 20 will require a left hand turn. Stay straight on RT. 2. It is easier. You will hook back up with US 20 near South Bend. There you will enjoy a limited access highway. It passes south of South Bend and Elkhart. After that it will once again become a 2 lane with wide shoulders for the Amish to use safely.
Saving the $32.10 is fine. It is the ultimate rationalization for dining with the Amish. There are 2 outstanding Amish restaurants near Middlebury, IN. The easiest one is the 5 & 20 diner. It is at the intersection of IN 5. It has gone commercial with a large electronic sign. The access is easy and the truck parking plentiful. It is a great place to sleep and get up for breakfast. It opens at 6, but remember that it is closed Sundays. The breakfast special is 2 eggs, 2 bacon, and 2 pancakes-for $4.99 and that includes the coffee.

The lunch specials are $5.99 and include the drink. The soup and salad bar are $7.99. I like to splurge for the $11.99 buffet. Hint-The pork chops are outstanding. The six mile buffet is just a few miles to the east and I believe that they have the best bacon in the world. US 20 has been reconfigured between IN 5 and the six mile cafe. It is accessed more easily from the eastbound side. You can swing a truck in there and then continue on the old 20 for a couple of miles where they reunite.
The six mile cafe is where I discovered Apple Butter, and became an addict. I will always remember eating my bacon there. I was enjoying the best bacon I had ever tasted. Then I noticed the pig farm across the street, and thinking these people know pork.
Taking the 94-20-2 combination across Indiana takes about 30 minutes longer than the tollway. It is 152 miles and I 80 is about 157 miles. Next time you are considering the the Indiana tollway consider going across Amish country instead.
– See more at: http://www.teamrunsmart.com/CMSPages/PortalTemplate.aspx?aliaspath=/The-Pros/Jeff-Clark/November-2013/Avoiding-The-Indiana-Toll-Road#sthash.brMZppnO.UzR6OKD4.dpuf
The following two tabs change content below.
I have been driving in the trucking industry for 9 years working for a major over the road refrigerated carrier. In "previous lives," I have worked as a police dispatcher while in college for Geology and Sociology, spent time in restaurant kitchens, and spent 9 years in retail electronics. Of all my jobs, I enjoy probably enjoy driving the most, with cooking not far behind. During my time as a driver my weight went up and my health went down. In the last few years I have made the decision to start taking back my health. RoadTestedLiving.com chronicles my story, as well as that of other drivers. It will share tips and tricks that, if they work for professional drivers with limited time, space, and equipment, they should be able to work for anyone. It also allows me to share my passion for the trucking industry, and good food with others. Simply put, Road Tested Living is all about Learning to Live Well from Life's Lessons on the Road.
Latest posts by roadtestedliving (see all)
You may also like
Following up with our much loved Canadian biker, I asked Taavi about his favorite biking locations.  His answer brought up some unexpected, and interesting points.  He told me he has many locations he enjoys biking.  But mentions Nashville, Tenneessee for the "bridge downtown, cycling paths, and farmer's market."  It certainly is a city with a […]
Read More